Plastic pallets are very versatile, and can be manufactured in a variety of shapes and sizes that customers require.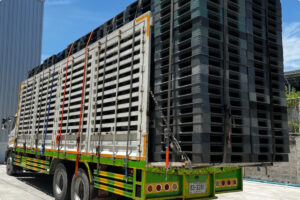 Product introduction of Inabata's PP plastic pallet
We are a leading Japanese manufacturing company, when we started with the motorcycle industry, we received a lot of requests from customers from many different industries for advice on purchasing routes. raw materials, and issues related to purchasing spare parts for production.
Advantages of PP plastic pallets produced by Inabatat

Can produce
according to customer request
Depending on the purpose of use, it is possible to change the pallet size flexibly to each centimeter. In addition, the versatility is also reflected in the ability to attach wheels to the pallet for use as a cart.

Satisfied for
various formats
By being able to change the structure of the axles and pallet surface, we can customize, so that the fork of the forklift can penetrate from 4 sides, or increase the number of axes of the pallet, to be able to raise strength and load capacity.

Produced by
all kinds of plastic
The pallet surface, the bearing shaft, or the pins are all plastic (polypropylene), so recycling is also simple. In addition, since there is no need to go through troublesome processing steps such as heat treatment or sterilization, there is no cost for these processing stages when handing the product to the customer, leading to a reduction in costs and procedures. customs, so that the work is progressed quickly. (* In addition, there is an additional use of polycarbonate reinforcement)

Due to the anti-slip design on both pallet surfaces, it is possible to control the slip of the pallet on the floor surface and when there are goods on the pallet, so the safety of the product can be ensured. Products.

Unlike pallets made from wood, pallets are made of plastic, so there is no situation of wood chips falling off, or being corroded and safe in terms of hygiene because they are not moldy. Due to its ease of cleaning, it can be used in food production areas where pallets are required to be kept clean.

Convenient in handling and
neatly arrange the factory
We manufacture pallets and carts in different colors such as red, green, blue, yellow, white, black… to improve work efficiency by using color to divide areas and processes production, can see pallets and trolleys will recognize areas in the factory, such as the production area, the adjustment area (defective goods) ...

We are always ready to advise our partners on suitable plastic materials, so do not hesitate to contact us at the contact below: